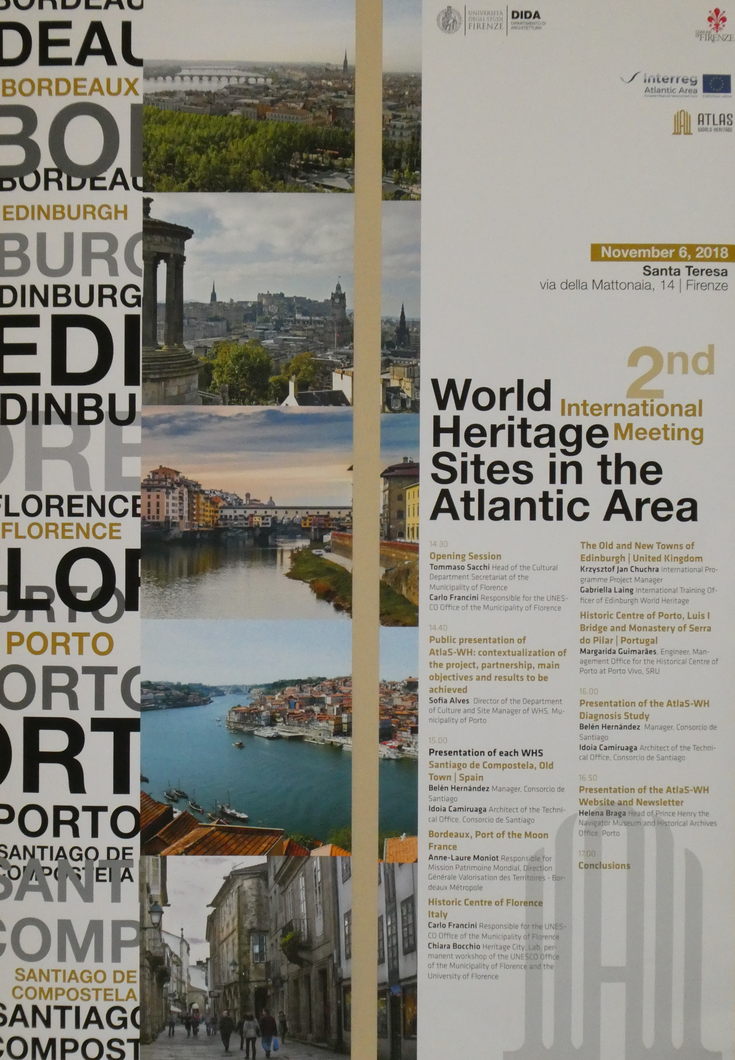 November 10, 2018
2nd International Meeting of World Heritage Sites in the Atlantic Area
Between 6
th
and 7
th
November, Florence was the host city of the 2
nd
International Meeting of World Heritage Sites in the Atlantic Area, which took place at the University of Florence. Tommaso Sacchi, Director of the Culture Department of the City of Florence, opened the session, stressing the importance of AtlaS.WH and noting that the 1st Conference of European Capitals of Culture was being held in Florence on the same day. It should be pointed out that at this 1st conference the final declaration was signed between all the mayors, which included commitments on cultural and historical heritage defence. Later, each AtlaS.WH partner - Porto, Bordeaux, Santiago de Compostela, Edinburgh and Florence - presented its World Heritage Site and main characteristics.
At this meeting, Santiago de Compostela had the opportunity to present the
Diagnosis Study of Urban World Heritage Sites in the Atlantic Area
, highlighting the methodological process used and the results obtained, and underlining the identification of the three main challenges that these Sites are currently facing: challenges related to governance, tourism and population, which will be the subject of more detailed analysis in the
Thematic Study on Critical Challenges
to be carried out by Florence.
During this session, Porto presented the AtlaS.WH website (
http://www.atlaswh.eu
) and its newsletter (subscribe here:
http://www.atlaswh.eu/p430-newsletter-en
) to allow others to follow the development of the project.
Among the vast audience were members of the Department of Architecture of the University of Florence, students and professors from the City of Florence, the MUS.E Association and the UNESCO Centre in Florence, as well as representatives from the other partner cities of the project.