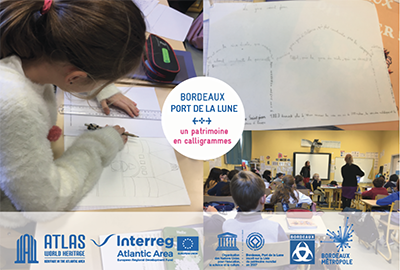 February 12, 2020
Bordeaux, a heritage in calligrams
Offered in primary schools by Bordeaux Métropole as part of the AtlaS World Heritage european project, "Bordeaux, a heritage in calligrams" was designed by the writer Elsa Gribinski.
Today's children are tomorrow's adults. The concern for the world that we will leave with them is (or should be) one of our major concerns. The historical and architectural heritage is a legacy whose richness is due not only to the beauty of the buildings. But It is also due to the history of the inhabitants of the city and to the understanding of the way in which man has shaped the territory. Bordeaux shows an architectural and landscape heritage such that, as we know, a large part of the city is listed as a UNESCO World Heritage Site.
But what are we talking about when we talk about heritage and how to make it sustainable? What are the challenges of its preservation and the benefits of being on the world heritage List?
The project proposes a reflection on these subjects by an approach which associates writing and visual art: the creation of calligrams evoking, by the text at the same time as by the drawing, the heritage of Bordeaux.
These calligrams will be published in the form of postcards. Bordeaux students will have the opportunity to get in touch with other European students who are also participating in the project, by exchanging their creations by post in a mutual discovery of each other's heritage.
5 schools, 10 classes and 270 students between 8, and 10 years old have been working on the project in all the districts of Bordeaux.
The project took place in two stages. First, meeting with the artists and discuss about heritage. Secondly, creation of calligrams.