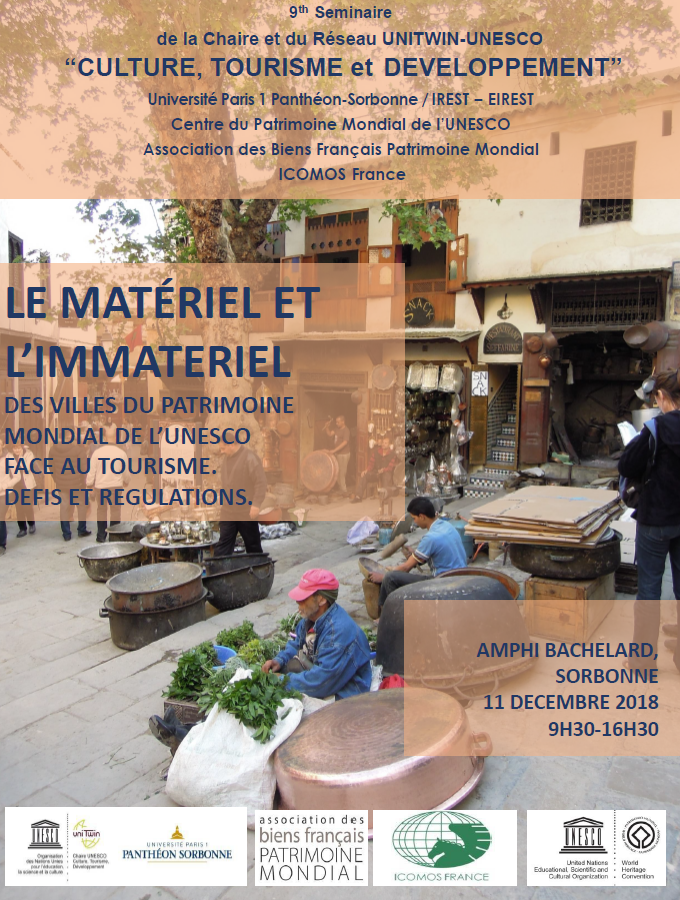 December 12, 2018
Culture, Tourism and Development
On 11
th
December, the 9
th
UNESCO Chair Seminar "Culture, Tourism and Development" was held at the University of Paris under the theme "The Material and Immaterial of the World Heritage Cities Facing Tourism: Challenges and Regulations ".
Bordeaux highlighted the relevance of this event, organised by the IREST of Pantheon Sorbonne university, taking into account the issues discussed in it, since they meet the conclusions of the AtlaS.WH diagnosis study, namely pointing out tourism as one of the main challenges, and its impact on life in historic centres.
In the framework of this 9
th
Seminar, two round tables were held: "Local residents and the diversity of functions in World Heritage Cities", asking such questions as: how can World Heritage cities adapt to the increase in tourism? How to regulate mass tourism and its impact? What means exist to allow the control of tourist impact?; and "Protecting the Immaterial Heritage of World Heritage Cities: Approaches and Tools", which discussed how the Sites could guarantee the protection and preservation of their immaterial heritage.
Considering the relevance of this seminar for the work in progress of AtlaS.WH, information will be shared between all the partners, and in particular, with the University of Florence which is developing the Thematic Study on Critical Challenges.
URL:
https://www.pantheonsorbonne.fr/fileadmin/Service-com/20181127_Seminair