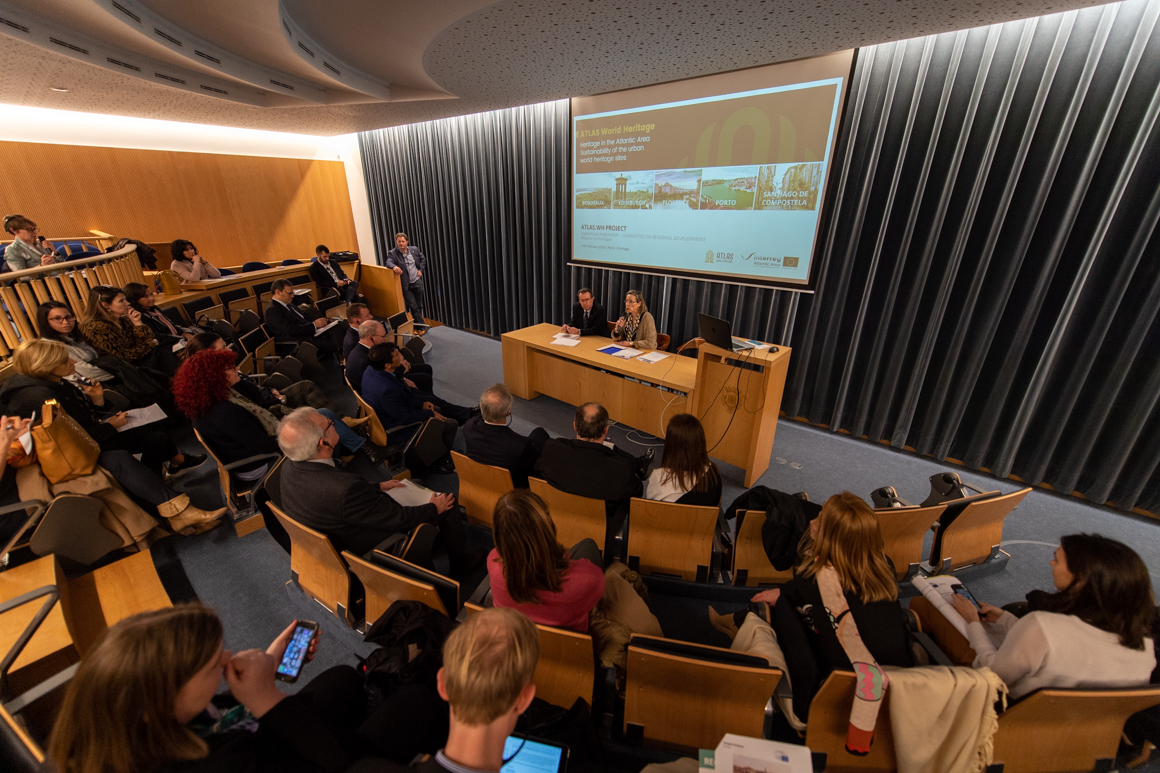 February 22, 2019
MEPs visited Porto to learn more about strategies to protect urban World Heritage
A group of MEPs visited the city of Porto yesterday to learn more about the AtlaS.WH project on World Heritage Historic Centres and monitor application of European Funds in Portugal.
The delegation was received in City Hall by the Mayor of Porto, Rui Moreira, and learned more about the project "AtlaS-WH - Heritage in the Atlantic Area: Sustainability of the Urban World Heritage Sites", created through a partnership between several European cities, and led by Porto.
The MEPs then visited the Historic Centre, including the Avenida dos Aliados, Rua das Flores, Rua dos Mercadores and the Ribeira riverfront zone, to gain a first-hand view of the work of the AtlaS-WH project.
The World Heritage sites included within the project are the Historic Centre of Porto, Luiz I Bridge and Monastery of Serra do Pilar; Santiago de Compostela (Old Town) (Galicia, Spain); Bordeaux, Le Port de la Lune (France); the Centro Storico di Firenze (Historic Centre of Florence, Italy); and The Old and New Towns of Edinburgh (Edinburgh, Scotland).
Co-financed by the Atlantic Area Interreg Program through the European Regional Development Fund, AtlaS-WH's main objective is to foster joint reflection and analysis among several specialists, in order to draw up a Sustainability Plan for each Site, involving implementation of a common methodology and an integrated management and monitoring model, while respecting the different cultural traditions and highlighting heritage in the process of spatial evolution that will contribute to maintaining the urban identity of each Site, in conformity with the principle of sustainable development.
The MEPs' trip to Porto was organised within the framework of the European Parliament's Regional Development Committee. It also included meetings in the North Regional Coordination and Development Commission (CCDR-N) to assess application of EU funds - via the Norte 2020 and COMPETE2020 programmes.
URL:
http://www.porto.pt/noticias/eurodeputados-vieram-ao-porto-conhecer-a-defesa-do-patrimonio-mundial-urbano