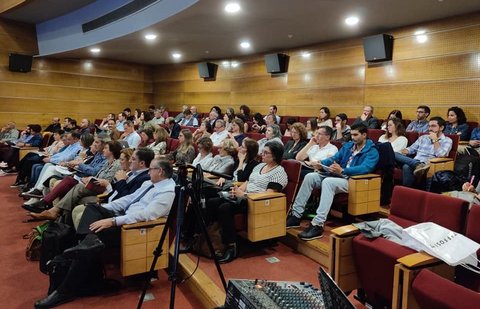 November 06, 2019
VII Iberian Meeting of World Heritage Managers
Under the theme "World Heritage and the Challenges of Sustainability", the Portuguese UNESCO National Commission, the General Directorate of Cultural Heritage and the Regional Directorate of Culture of Azores organised the VII Iberian Meeting of World Heritage Managers that took place in Angra do Heroísmo, Azores, on the 28
th
and 29
th
of October, 2019. For this meeting AtlaS.WH was invited to be one of the representatives of Portugal due to the recognized interest it has raised among these institutions.
The meeting, structured around five thematic panels, featured the presentation of the
Challenges to the Management of World Heritage Urban Sites in the Atlantic Area: the AtlaS.WH project
by Sofia Alves and Margarida Guimarães, as part of the first panel "World Heritage Cities as Historic Urban Landscapes: urgent challenges to management systems". This was a very important opportunity to disseminate the achieved results of AtlaS.WH among specialists and also to receive feedback on the ongoing tasks thus, capitalising AtlaS.WH on an Iberian level.
URL:
https://www.unescoportugal.mne.pt/pt/noticias/vii-encontro-iberico-de-gestores-do-patrimonio-cultural