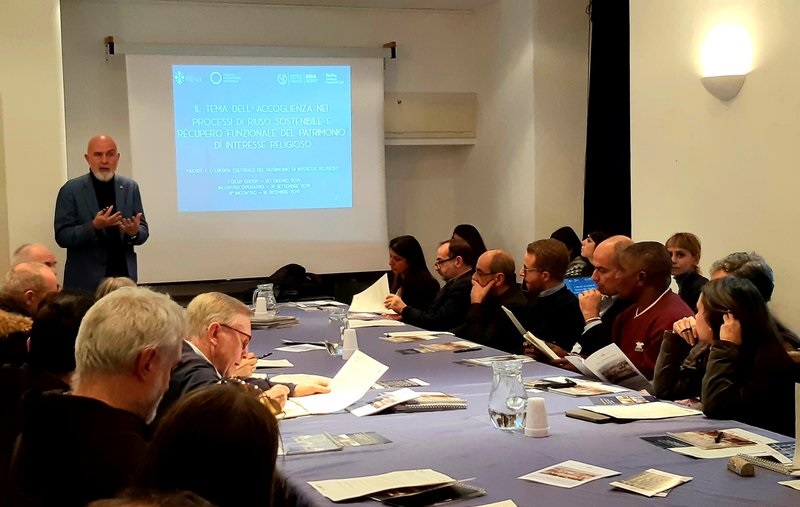 December 18, 2019
Florence and the cultural inheritance of its religious heritage: 3.° meeting
In order to facilitate the appropriate protection of religious assets, the World Heritage Committee has requested the UNESCO World Heritage Centre, together with its related advisory bodies, to develop a thematic document of general orientation for the States Parties of the UNESCO, on the management of the cultural and natural heritage of religious interest. In launching the initiative, called Heritage of Religious Interest, UNESCO therefore plays a leading role in the development of general directives and since 2016 it has been coordinating a global cycle of thematic consultations and workshops, during which experts, stakeholders and representatives of religious communities meet in a spirit of dialogue, sharing and rapprochement of different cultures.
In this context, the Historic Centre of Florence, World Heritage site, has a very large number of monumental complexes with individual buildings linked to the cultural heritage of religious interest. There is an evident need to carry out an in-depth analysis of how much this heritage is or may be fundamental for the understanding and interpretation of the Outstanding Universal Value of the Historic Centre of Florence, opening an intercultural front linked to the intangible dimension that belongs precisely to the heritage of religious interest. The project therefore has the goal of promoting the sustainable development of the management of the monumental complexes of religious interest in the World Heritage site Historic Centre of Florence. The last appointment of the project was held at the Sinagoga on 18 December 2019.
The expected results are the following:
1. The establishing of concrete connections with the subjects involved and the identification of short, medium and long-term strategies for sustainable development of the heritage of religious interest; the same strategies must be defined within the Management Plan;
2. The drafting of a summary report on the topics addressed that highlights the peculiarities emerged and helps identify examples of best practices for future comparisons with other national and international situations;
3. The analysis, drawing up and dissemination of general plans and methodologies by the responsible institutions for optimising the management of the properties of religious interest in the Historic Centre.
The meeting organized on the 18th of December is part of the European project
ATLAS World Heritage in the Atlantic Area
.
URL:
http://www.firenzepatrimoniomondiale.it/en/firenze-e-leredita-culturale-del-patrimonio-religioso/