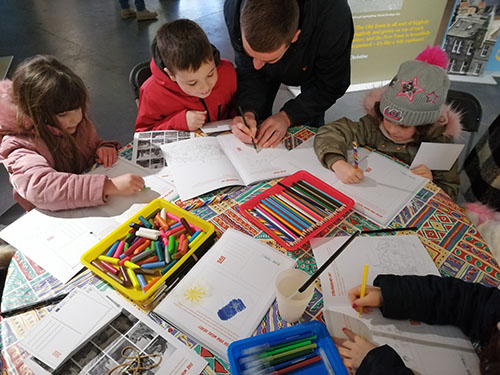 February 25, 2020
Greetings from Edinburgh! Designing postcards at the Tron Kirk
The Tron Kirk has been a central feature of Edinburghers' lives for hundreds of years, acting as a common meeting point and gathering place in the heart of Edinburgh's Royal Mile. This week, young people gathered with their parents to discover Edinburgh through art, discussing paintings of Edinburgh, playing 'art detective' bingo, and designing their very own postcard for Edinburgh.
Escaping the rain and snow outside, the children and their parents enjoyed the opportunity to sit down and relax with by getting stuck in with the AtlaS.WH creative activities. It wasn't long before memories of specific places in Edinburgh were being shared between parents, their children, and other families gathered around the table.
"My grandmother used to take me to see the Floral Clock in Princes Street Gardens," said one mother. "Seeing the clock was one of my first memories" said another little girl, adding, "I've never actually been up to the Castle, but I like the gardens."
Stories like these remind us of what is important about Edinburgh to those who live here. The Edinburgh we see on postcards isn't always the Edinburgh that is special to residents. We hope these new postcards designed at the Tron Kirk will shine light on such stories.
URL:
www.ewh.org.uk/postcards