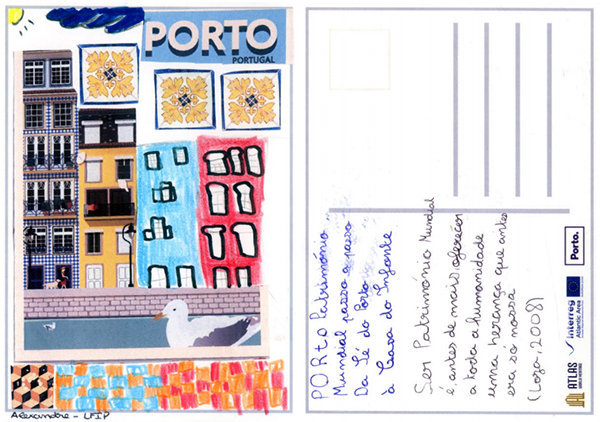 March 27, 2020
Porto World Heritage – Who Cares?
Throughout the academic year 2019-2020, Porto City Council developed a heritage education program, entitled "Porto World Heritage – Who Cares? " It is aimed at students in the 2nd cycle aged between 10 and 12 years old, consisting of three sessions: the first, in the classroom; the second, abroad in a guided tour of the historic centre; and the third, in a municipal space located in the Historic Centre, to be chosen by the teacher (Archeosite, Casa do Infante, Douro Extension and Casa Guerra Junqueiro - stations of the City Museum - and Porto Vivo, Urban Rehabilitation Society).
At the end of the three sessions, the students were invited to illustrate a postcard to present Porto to other colleagues from the partner cities of the AtlaS.WH project.
The interdisciplinary "Porto World Heritage – Who Cares?" programme encourages schoolchildren to think about the safeguarding of heritage; their knowledge of cultural and natural assets of universal value inscribed in UNESCO's World Heritage List, including the Historic Centre of Porto; and fostered good citizenship among children to care for and protect their heritage.
16 classes from both public and private schools participated, totalling about 350 students and 40 teachers.
Within the scope of AtlaS.WH this heritage education program was developed by all partner cities, so students involved in different cities will receive postcards produced by children from other world heritage sites.