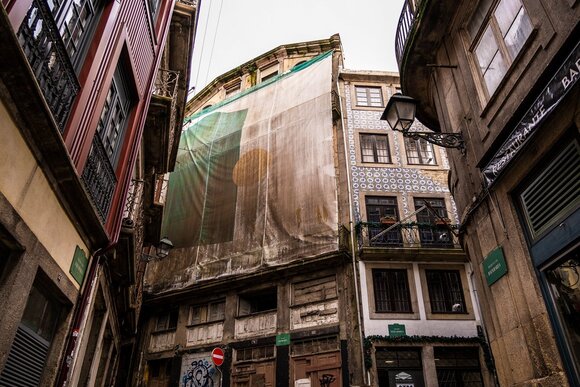 December 22, 2020
New rehabilitation stage of the Morro da Sé is already underway, with work in five buildings
Works for the new rehabilitation stage of the Morro da Sé have already begun. They correspond to the complete refurbishment of five properties, which will result in 14 new housing units. The total municipal investment is around €1.6 million.
The requalification works of the Morro da Sé, a structural intervention in the rehabilitation of the Historic Centre of Porto - in line with the municipal strategy for regeneration of the local population – have begun a new stage in the so-called "Operation D", whose public tender was announced in
August
2020.
With an expected implementation period of two years, the work will result in the provision of an additional 14 new housing units. Covering a total area of 1,611 m2, it will include two studio apartments (T0), five one-bedroom apartments (T1) and seven two-bedroom apartments (T2) and also the constitution of four commercial spaces. The exterior of the building will be preserved.
As part of the municipal affordable rents programmes, aimed at middle class tenants, this intervention continues the Morro da Sé rehabilitation project, which has made significant progress as a result of conclusion of the municipalisation process of the company Porto Vivo - Sociedade de Reabilitação Urbana do Porto (Porto Vivo, SRU), in 2019.
"Operation D", which takes place in the confluence of three streets – the Rua da Bainharia, Rua dos Mercadores and Rua de Santana - was consigned at the beginning of December to the contractor RBT- Construções SA, that won the public tender, and construction works have been underway since December 11, involving an investment of approximately €1.6 million.
Porto Vivo, SRU is currently pursuing a strategic role in expanding the city's rental market. In August 2020, the company
delivered the keys to 14 new homes
, located in the Morro da Sé, provided by the Municipality in the affordable rents regime.
To read more:
https://www.porto.pt/pt/noticia/nova-fase-de-requalificacao-do-morro-da-se-ja-decorre-com-obra-em-cinco-edificios