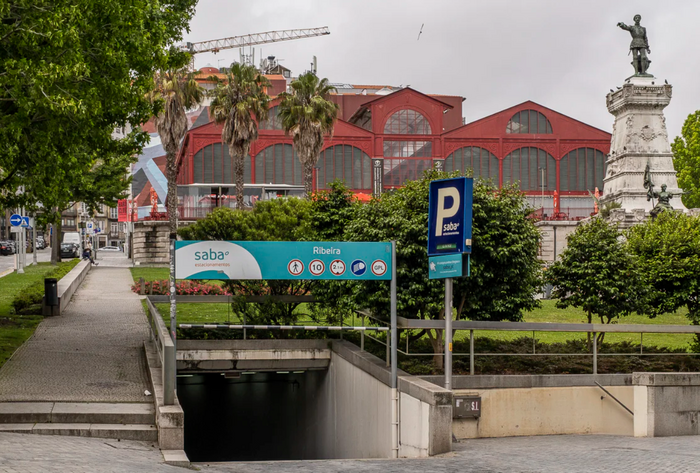 May 15, 2021
New concession for the Praça Infante D. Henrique car park reserves spaces for local residents
The opening of an international public tender, limited by pre-qualification, has been approved for the new concession for the Praça do Infante D. Henrique car park, wherein the current concession terminates in mid-October. Porto City Council has stipulated the minimum reservation of 138 parking spaces, primarily reserved for local residents and some for logistical needs. The concessionaire will have to pay the municipality a minimum revenue of 30 percent, in accordance with the amounts currently charged.

Located in the Historic Centre of Porto, the car park of the Praça do Infante D. Henrique "is a consolidated facility, with 318 parking spaces, whose location is a core factor of its sustainability", indicates the proposal made by the Councillor for Transport, which was approved yesterday by a majority in a meeting of the Municipal Executive, with one vote against by the CDU, due to ideological considerations in relation to concessions, explained the councillor, Ilda Figueiredo.
The document states that this central area of ​​the city is also consolidated in terms of the provision of public car parks and "its accessibility should be enhanced through the use and reinforcement of public transport, to the detriment of individual means of transport".
Porto City Council has followed this strategy through a commitment to progressive elimination of parking in the riverfront area and the historic centre, as well as protection of particularly sensitive areas, through the restriction on the circulation of cars. For this reason, the proposal highlights the importance of "safeguarding parking for residents, with a total of 120 parking spaces, for which fixed resident fees will be attributed, in accordance with Porto City Council's tariff policy".
In addition, as a result of the policy of restricting car traffic and the pressure of pedestrian traffic in the surrounding area, "also considering the Sustainable Urban Logistics Plan that is currently being drawn up", the reservation of an area equivalent to 18 parking spaces for urban logistics has been contemplated.
Subtracting the areas reserved for residents and logistics, the car park will have a capacity of 180 parking spaces for the concessionaire, which "represents a 43.4% decrease in the number of available spaces".
The City Council estimates that with this capacity it is necessary to record "an average growth rate of 17.2% of the average daily rotation, over a 4-year period" in order to recover the rotation level that existed prior the pandemic. On the basis of these calculations, the global amount to be received by the Municipality of Porto "is estimated to be €1.6 million, which may be higher in function of the winning proposal", the document states.
The proposal for the authorisation to grant, via a public service concession regime, the commercial operation and maintenance of the underground car park in the Praça do Infante D. Henrique, for a 7-year period, is still be submitted to the Municipal Assembly.
To read more:
https://www.porto.pt/pt/noticia/nova-concessao-do-parque-de-estacionamento-da-praca-infante-d-henrique-reserva-lugares-para-residentes